Session 7: Zydeco Pioneer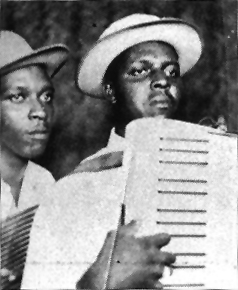 Hey people, King of Bongo hopes you're all enjoying yourselves. Today, a little treat from one of the most under-appreciated forms of music.
Louisiana-based Blacks probably picked up the accordion in advance of their Cajun neighbours, and cooked up what's now called '
Zydeco
'. Originally a fusion, as of so many displaced-peoples' music, of elements both near and far, in zydeco you can hear Caribbean, Afro and Latin influences. The music was a slow, relaxed groove, sung in French.
Then, along comes
Clifton Chenier
. Born in 1925, given his first accordion in 1937, playing with his brother Clevland on rub-board ('frottoir'), his professional career began on '54 when he released minor hit record "
Clifton's Blues
". He gave up his day jobs (truck-driving and pipe-hauling) and began touring extensively with the Zydeco Ramblers. Clifton injected an immense energy and style into the formerly slower-paced music, and couldn't help but build up a loyal following.
But you don't just want the history - you want to know about the music. So KoB has 2 tracks today, capturing cape'n'crown-wearing Clifton at the top of his form. Recorded in 1965 for Arhoole Records (and cleaned up in 2005 to sound good-as-new), 10 years after his professional debut - Clifton had been given a new lease of life after signing to the label, and over the next 20 years he recorded and toured to acclaim.
Buy "Louisiana Blues & Zydeco" from Amazon
Stricken by illness, Clifton still carried on performing, and was on stage a week before his death on December 12, 1987.
Clifton Chenier: "
When the red light goes on and the tape is running through the machine, I want to perform the song just once and go on to the next tune. Let's not mess around trying to get a better take. The best is the first
."
Ladies and gentlemen - enjoy some fine zydeco accordion from Mr Clifton Chenier:
Zydeco et Pas Sale
[mp3 | 03:15 mins | 192 kbps | 4.48 MB]
Louisiana Two Step
[mp3 | 03:48 mins | 192 kbps | 5.23 MB]
File under: Squeezbox Francais
[Click on the link and you'll be taken to
yousendit
where you can download the track. First come first served people, only 7 days and/or 25 downloads allowed!]